Our research fields – your applications
The research carried out at the IIB is centred around technology-intensive areas of the medical device sector, involving the development of new therapies and diagnostic platforms, such as testing equipment for medical products. Particular emphasis is placed on the following fields: stent technology | electrostimulation electrodes | ocular implants | bioresorbable materials | biofunctionalized implant surface coatings and drug delivery systems | implant surface coverings. Our expertise in the resolution of biomedical issues ranges from the analysis and modification of materials, through assessing their biocompatibility, functionality and stability, all the way up to and including adaptation of designs to the materials they are made of.
EU-Funded Research Projects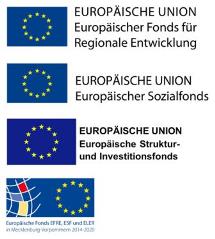 The IIB e.V. is funded within different collaborative projects by the European Union from the European Regional Development Fund (ERDF) and the European Social Fund (ESF) within the context of the Operational Programm Mecklenburg-Vorpommern 2014-2020.
Enlargement of laboratory and device configuration/instrumentation of
IIB e.V. as Mecklenburg-Vorpommern Center of Excellence for Medical Engineering
The funding will support the development of business-related infrastructure to strengthen the competitiveness of enterprises and support the development of regional economy aims. The funded project serves the purpose of promoting research and knowledge dissemination as well as the generation of knew knowlegde.
Card-ii-Omics Cardiovascular Implantdevelopment-Infections-Proteomics: Prevention, Diagnosis and Therapy of Implantinfection
TheraVista New Therapyplattforms for Vascular Intervention - Systems, Technologies, Applications and Testing Methods
TheraMagna Development of a Novel Absorbalbe Coronary Vascular Scaffold
MediStream Biocompatible Modular Fluidic Systems for Handling of Sensible Materials for Biomedical Applications
NovaCard Development of Innovative Xenogen Pericardmaterials for a New Generation of Heart Valve Prostheses
NanoVis Magnetic Nanoparticles for Magnetic Particle Imaging (MPI)